Only One Month to go!!!! St Moritz 2018 Program Blasts off June 24!
We're only one month away from our program start date of 2018, so we thought you might like to know a little bit more about our programs and what you can expect...
 
If your family has never been part of a ski club before, it may seem a bit daunting at first. Sure, it's more of a commitment than casual ski school group lessons and your little skier may be anxious about what goes on, but rest assured, St Moritz has trained children of all ages and abilities for generations…and they keep returning to our program year after year.

The main focus of St Moritz is skill development. We want our little skiers to be happy and confident skiers, because happy little skiers turn into talented teenager racers and accomplished adult skiers who continue the love of snowsports with their own families. Confidence is established by developing a wide range of skills so that our athletes can cope with whatever the mountain throws at them. Our beautiful snowy environment is unpredictable and at times unforgiving, so it is important that our skiers experience and master all manner of conditions and skiing styles. Being caught off-guard by the blue run skied the day before that is now a black mogully ice field thanks to the late afternoon rain and freezing overnight temps is one thing, being able to ski it safely anyway is empowering.

So what can your family expect at St Moritz? Our club has a longstanding and very close relationship with Thredbo Resort. They help us facilitate our on-snow activities by providing us a club house and our wonderful instructors. We are able to hand-pick the most experienced instructors and we are very fortunate to have two of our favourite three instructors request to come back to teach St Moritz again in 2018. Unfortunately the lovely Margie can't make it back to Thredbo for this season, but our ex World Cup racer Manuel will be joining us again from his home town of Cortina in Italy to coach our race squad and Damien will be returning also to coach our intermediate athletes. Stay tuned for news about our new instructors joining us in 2018.

On our first club ski day, all athletes are introduced to their instructors and new families are introduced to returning families and children are grouped in ability, regardless of age and size. Because children reach developmental milestones at different times, all athletes are continually monitored and shifted between groups as they grow and progress. This may mean that children are separated from a sibling or bestie, but theres always lunchtime to swap ski stories.

During the morning ski, the focus is on skill development with our instructors taking the lead on what the theme will be that day based on snow conditions, availability of mountain facilities, weather and overall group ability. But rest assured, no two St Moritz ski days are the same! Our St Moritz classes are granted access to the ski school lift lines so our athletes get maximum on-snow time and they certainly make the most if it. Classes don't stop for a break until lunchtime where our little skiers break first at 11:30 at our Merritts clubhouse. Our other two groups come in for lunch at 12:00.

Parents are welcome to join the children for lunch in the club room (behind the ski patrol office at the top of Meritts chair) and utilise the Club's kettle, microwave and toasting machine. Keep in mind that the clubhouse is quite cosy and is primarily a place for our athletes and coaches to eat their lunch and re-gather before heading out for the afternoon class. There may not always be a spare seat for Mum & Dad during peak times. Our mountain man is responsible for transporting the athletes bags from Friday flat up to the clubhouse, ready for lunch, then back again at the end of the ski day.
The afternoon session is usually less structured with a focus on applying the morning's lesson in a free-skiing situation. Parents are asked to meet their children back at the clock tower on Friday Flat by 3:00pm for pick up. There will be an opportunity to chat to your child's instructor and get feedback on their day.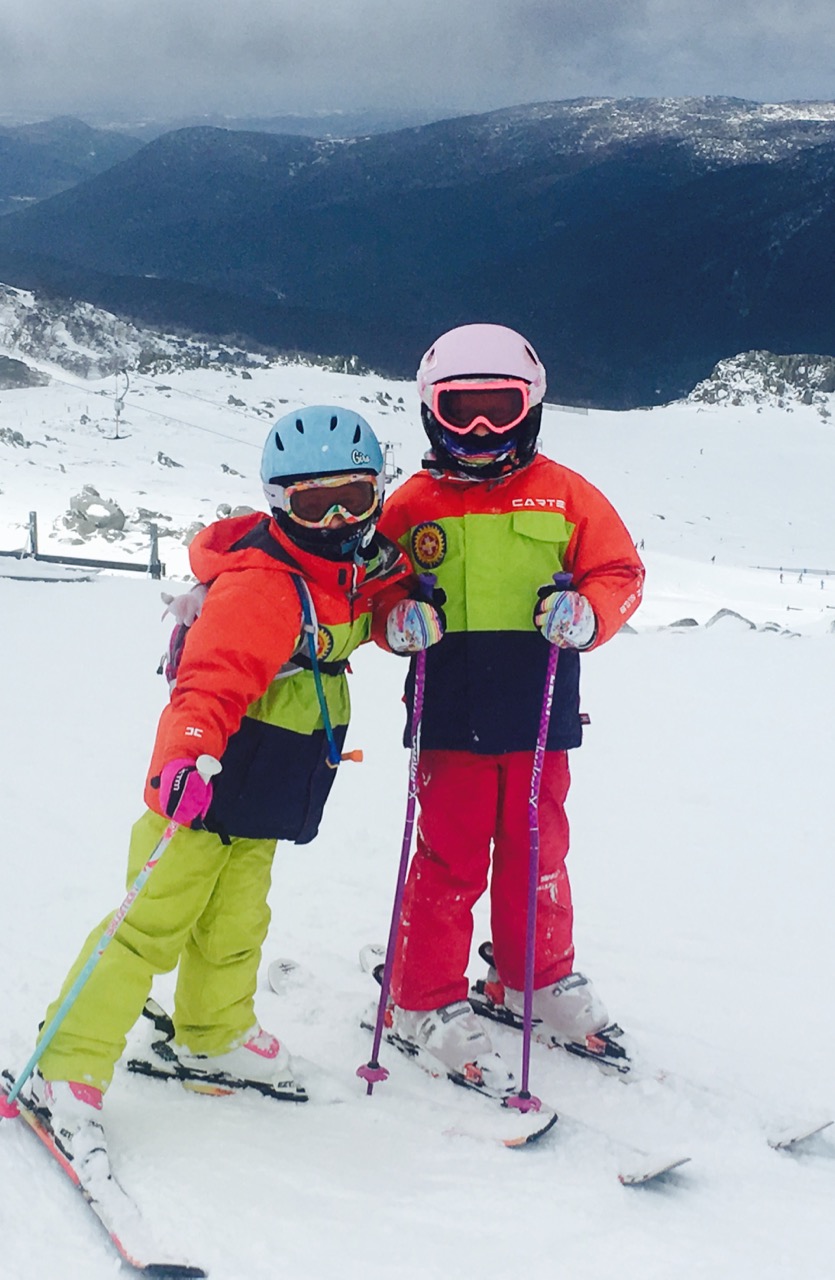 St Moritz is a family club and we pride ourselves on the fact that we now have our 3rd generation from the same family skiing with the club. Our aim is to foster a love of skiing for life, through our community spirit and family focus. Our athletes not only gain life skills through skiing, they gain friends for life too.
If you're interested in any of our programs, be sure to register your interest ASAP so we can secure our favourite instructors as our programs are reliant on how many athletes we have enrolled. We can't wait to meet you on the hill!
All enquiries, please contact:
Alyson Deane (president) 0419 271 276
Any of our committee members